Public Speaking
Attention please!
Due to the current COVID-19 situation, our club meeting are held online via "Zoom".
Are you interested? Join us as a guest. Click here.
»Uhm…, aah, what I wanted to say was …«
Fear of public speaking
You know this feeling? When you have to speak in front of an audience the right words have spontaneously slipped your mind? Your heart beats, your palms begin to sweat, and you hope the ground will swallow you up at once?
Don't Panic! We, from the Düsseldorfer Toastmasters have made it our goal to give practical help in order to improve speeches, to train voice and body posture, and to perform confidently.
We help you overcome stage fright and offer …
a protective environment to practice free speech
learning by doing – no traditional teaching approach
learning with enjoyment and drive
witnessing others develop with enjoyment and drive
a friendly atmosphere, respectful and supportive
speech evenings in English
a tailor-made mentoring programme
New address 2020
From the Jan. 7th 2020 our meetings will take place at the Münsterstr 126, 40476 Düsseldorf (above the Sparkasse). The room is on the 1st floor and is called "RfK UG".

Get to know the Düsseldorfer Toastmasters in person
"Get to know the Düsseldorfer Toastermasters in person.
Please join us at one of our club meetings as a guest. We, the Düsseldorfer Toastmasters will assist you to improve your speaking skills. You will receive supportive feedback from our members and can practice in the protective environment of our club. Over time, you will be become more confident and command the stage effortlessly. Our members come from all walks of life with our birthdays separated by more than half a century and our birthplaces liein more than 25 countries. Our members vary in background and skill level but we are all joined by passion for selfimprovement and public speaking. Join us and experience the stimulating atmosphere of our club."
Malte W. Wilkes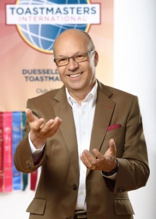 President of the Düsseldorfer Toastmasters
Our club leadership in portrait: Club officers
Participate as a guest
If you would like to participate as a guest, please register for a club evening. There, we will greet you in person and explain to you everything of significance. If you like, you can visit us several times and also bring a colleague or a friend.
The visit is totally free of cost and non-binding!
Next club evenings
We are a bilingual club and meet five times a month. Club evenings always start at 7:30pm.
1st Wednesday of the month: in German
The Tuesday before the 2nd Wednesday: in German
2nd Wednesday of the month: in English
3rd Wednesday of the month: in German
4th Wednesday bilingual German/English (members only!)
News and updates on Facebook
We regularly inform you about activities and news on our Facebook page: