Club leadership
Club leadership
The Düsseldorfer Toastmasters leadership team is voted on each year. Being a club officer can be a lot of fun and can also help to develop valuable leadership skills.
Club year 2018/2019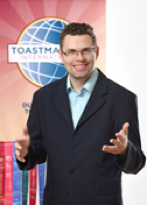 Jakub Kratochvil, President
Jakub is from the Czech Republic and has a degree in computer science and a master in international relations. He works as a software tester and is developing his own online business trading chocolate and rum. He started his Toastmasters career in 2012 in Prag before joining the Düsseldorfer Toastmasters club in 2013. He is interested in bettering his speaking and leadership skills, but also enjoys the networking aspect of the DTM club. Jakub speaks about the subjects of software testing, quality control, applied mathematics and internatinal relations.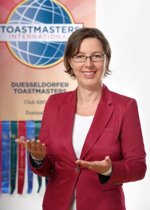 Christine Sommerfeldt, Past President
Christine is a self employed photographer with her own studio in Düsseldorf. She is specialized in business photograhy and executive portraits. When she joined Toastmasters in 2013, she was looking for a way to help her clients to have a more confident appearance in front of the camera and in their photos. As a photographer, she speaks publically about body language and presence as well as about the importance of having excellent photo material.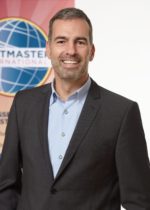 Boris Rickmann, Immediate Past President
It shouldn't come as a surprise that the treasurer of the Düsseldorfer Toastmasters also works in a bank. He uses his newly aquired speaking skills to impress his co-workers and clients. Knowing how to properly give a presentation for difficult projects is a very helpful skill. Boris is also able to use his speaking and leadership skills in his family of four children. The combination of professional training scenarios along with the familiar atmosphere at the meetings is what convinced Boris that Toastmasters is right for him.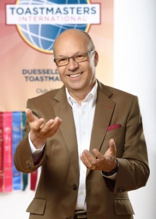 Malte W. Wilkes, Vice President Special Projects
Malte is a self employed business consultant as well as an honorary president of the BDU "Bundesverband Deutscher Unternehmensberater", the author of several books, a columnist and a commentator. Malte has had over 1000 public speaking engagements as a member of discussion panels, a moderator and as a key note speaker. He has also been on TV and on the radio. His key subjects are customer centricity as a key business element, leadership, marketing, sales, cooperate communication, change, future and creativity as well as innovation and health care. Malte joined Toastmasters in 2013 to optimize his "5-minute-speech-giving" and to experiment with different speaking techniques. He has acheived the highest level as a speaker ACG (Advanced Communicator Gold).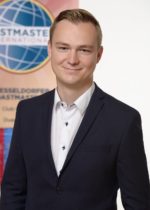 Michael Eugen Schmidt, Vice President Mentoring/Leadership
Michael has been interested in the subjects communication, influence and personal development for his whole life. In 2008 he started the online magazine "30Tausend" in which he works together with many experts in these fields to develop new ideas and to further his network. His main job is as a personnel consultant to mid-sized companies for their executive and management level personnel needs. Michael joined Toastmasters in 2014 in order to enhance his communication and leadership skills. He likes being in contact with so many interesting personalities and the conversations that he has with them. Outside of Toastmasters and his work, Michael loves to play golf and always works on new ideas and innovations.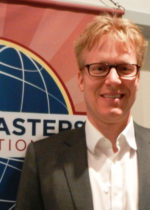 Marcus Bonsiepen, Agenda Master
Marcus works in the corporate development department of a bank. Through his membership of the Düsseldorf Toastmasters he wants to improve his speech and leadership skills and broaden his horizons. At the Toastmasters, he enjoys being in contact with people from different cultural and professional backgrounds and the resulting diversity of exciting speech themes. In his spare time, Marcus enjoys playing tennis and piano. He is also committed to nature and animal welfare. Together with Magdalena he is responsible for the agenda and supports Monika in organizing the mentoring program.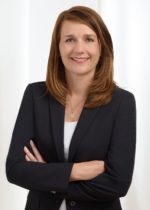 Andrea Steinforth, Vice President Membership 1
Andrea is a true family person, so it's no surprise that she is enjoying her time as Vice President Membership. She is pleased to welcome guests to the Toastmasters in Düsseldorf and to familiarize them with the Toastmaster world. Professionally, Andrea studied foundry engineering and has built up a further mainstay in addition to her activities in the family casting business. So she is a lecturer for budding foundry masters and volunteers to assist students in their career choices. She has been a member of the Toastmasters in Düsseldorf since 2015 and finds the development and practice of her ability to speak in combination with organizational tasks very enriching.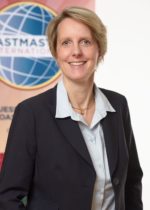 Jutta Büchel, Vice President Membership 2
As a product manager for a financial services provider, Jutta's job is to collect requirements, analyze proposals for solutions with colleagues, and then present them to different groups. Through the Toastmasters, Jutta wants to improve her speech and communication skills. She finds the variety of members particularly exciting: from speech beginners, students and non-native speakers to professional "speakers". Thanks to the appreciative feedback and the informal atmosphere she learns a lot. In the presidium, Jutta and Andrea are taking care of guests and new members.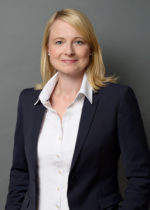 Claudia Wiegmann, Vice President Membership 3
Claudia Wiegmann studied business administration and is now a project manager for a company based in Essen. While studying for her master's degree in Denmark, she was invited by a fellow student to the Toastmasters and immediately loved the unique learning environment. Above all, she appreciates that the advancement of each individual member is supported by constructive, benevolent feedback. Claudia also appreciates the opportunity to gain valuable impulses that will help her in a professional context. As Vice President Membership, she, Andrea and Jutta take care of all matters relating to the membership at the Toastmasters in Düsseldorf.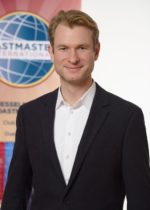 Maximilian Müller, Vice President "Roastmaster"
Maximilian, who graduate in business administration and is treasurer of the Toastmasters in Düsseldorf, has always been interested in numbers and their relationships. Maximilian works as a controller in Düsseldorf. While hiking, he became aware of the Toastmasters during a conversation. All the greater was the joy when he realized that there is also a club in Düsseldorf. Maximilian wants to improve his speech skills up to a professional level and improve his leadership skills – networking is a positive side effect. The Düsseldorf Toastmasters convinced him with trustworthy but realistic training situations as well as a colorful mixture of speech topics.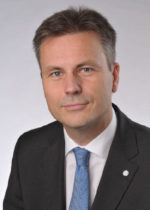 Dr. Maik Adelt, Treasurer
The graduate chemist is a department manager in the internal management consulting of a Dax Company. He regularly faces the challenge – in German and English – to convince employees, colleagues and clients not only in content, but also emotionally. Toastmasters helps him develop these skills. The German and English club evenings give him the opportunity for rhetorical experimentation. He appreciates the friendly, motivating but constructive feedback from the other club members.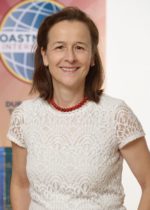 Monika Kollewijn-von Herz, Vice President Mentoring
Monika Kollewijn-von Herz is a pedagogue and self-employed entrepreneur. She leads an institute for learning support in Wuppertal, accompanies children and adolescents with learning difficulties and provides advanced training for educational professionals. She knows that three things are important for relaxed learning: interesting topics – having fun – and the chance to try something new. And that's exactly what she likes about the Toastmasters. Here, members can improve their skill in an relaxed environment. Monika is responsible for the mentoring. It gives new members a mentor for the first speech projects, if they wish.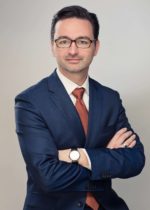 Markus Tebel, Vice President Public Relations
The self-employed business consultant, business coach and speaker supports companies that want to develop and implement their own digital roadmap. He is a pioneer and companion in the area of ​​strategy development and implementation of digital transformation with a focus on digital skills, customer-centric innovation and service management. For his professional activity, the ability of communication, leadership, and presentation is crucial to his professional success. At the Düsseldorf Toastmasters, he welcomes the open and appreciative environment in which fun and entertainment are not neglected.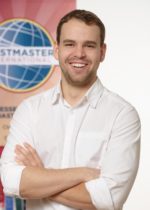 Viktor Fink, Vice President Digital
Viktor Fink is CEO of a web and advertising agency in the Düsseldorf area. Through his job, he gained a lot of experience in the areas of social media marketing and online presence. He offers these skills to the Toastmasters in his role as "Vice President Social Media". At first, Viktor heard about the Toastmasters through a friend, but it was not until weeks later when he read the term "Toastmaster" in a book that he decided to join the club. Since 2015 he is a committed member of the Düsseldorf club.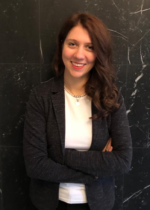 Magdalena Nolde, Agenda Master
Magdalena Nolde was born in Warsaw, where she studied International Relations. Her wish was to live abroad later and get to know new cultures. She finds it very inspiring to have contact with people from different countries and cultures. That is one reason why she enjoys been a member of the Toastmasters. In passing, she improves her communication skills and trains creative thinking, which is enormously helpful for her work as a consultant. At Toastmasters, Magdalena is responsible for the agenda for the evenings.